Invited Speakers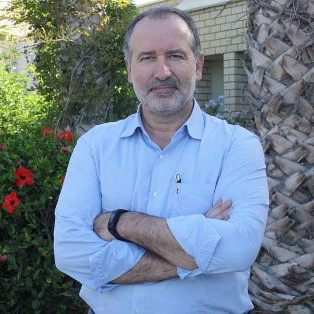 Dr. F. Gabriel Acién Fernández
Professor
Chemical Engineering, University of Almería, Spain
---
Speech Title:
SABANA project: Demonstrating the application of microalgae in agriculture and aquaculture
Abstract: The production of microalgae for agriculture and aquaculture related applications has been demonstrated at pre-commercial scale as part of activities related with SABANA project. Thus, a R&D facility up to 0.5 ha and a pre-commercial 1.5 ha facility have been put in operation producing selected microalgae strains for those purposes. It has been demonstrated that freshwater and seawater microalgae strains, as Scenedesmus and Nannochloropsis, can be produced for aquaculture related applications including using manure as nutrients source. However, some contaminations problems can arise then precise protocols to ensure safety of produced biomass being required. Anyway, microalgae biomass incorporated to aquafeed provide interesting pro-biotic effects. In the case of agriculture related applications, although seawater strains are also interesting, the most powerful are freshwater. Robust freshwater strains capable to be produced outdoor along the entire annual cycle demonstrate to provide biostimulant effect to higher plants including when producing using wastewater. The integration of wastewater treatment into the microalgae production process largely increases the sustainability of the entire process, also greatly reducing the biomass production cost. Large scale reactors up to 1.000 m2, operated in continuous mode all the year around, demonstrate that the production of valuable biomass for those applications was possible. Low cost and energy consuming harvesting and processing schemes also demonstrate that to obtain marketable products is feasible. Techno-economic analysis shows as agriculture related applications are today the most interesting, the development of new products to increase the yield and sustainability of foods production by agriculture being highly promising.
---
Dr. Camilla Parmeggiani
Department of Chemistry "Ugo Schiff", University of Florence, Italy
---
Speech Title:
Cell Instructive Liquid Crystalline Networks for myotube formation
Abstract: Maturation of different cell lines is a pivotal step to reproduce tissue formation in vitro. So far, many attempts to prepare scaffolds that mimic the biological environment were done, trying to reproduce its mechanical property or the extracellular matrix composition and topography. Some examples reported patterned scaffolds bearing micro/nanometric features or stimulated ones (by mechanical stretching or electric field) with the aim to force the correct cell differentiation. We approached the problem from a completely different point of view. Maturation of myotubes towards the reproduction of muscular tissue was undertaken by the use of scaffolds made by Liquid Crystalline Networks, demonstrating the material itself to be able to undergo favourable interactions with the cells despite not reproducing their complex biological environment. The scaffolds were prepared to evaluate the effect of different stiffness and liquid crystalline alignments. Both parameters play a role in the myotube formation where specific mechanical properties are required to obtain the myogenesis, while also the molecular alignment can favour the process. By electrophysiological studies we demonstrated as the new scaffolds allow to obtain myotube having more adult‐like morphology and functional features in a shorter time than standard supports.

Keywords: liquid crystalline elastomrs; myotube formation, cell alignemnt

Acknowledgements: This work was funded by Ente Cassa di Risparmio di Firenze (2020/1583) and by FONDO INTEGRATIVO SPECIALE PER LA RICERCA (FISR), LEONARDO project.
---
Dr. Igor V. Pantić
Department of Medical Physiology, Faculty of Medicine, University of Belgrade, Belgrade, Serbia
---
Speech Title:
Gray-level co-occurrence matrix method for detection of physiological alterations in chromatin organization and distribution
Abstract: Gray-level co-occurrence matrix (GLCM) is a contemporary and innovative computational method for assessment of texture and quantification of textural features. In molecular and cell biology it can be used for detection of subtle changes in nuclear chromatin architecture in physiological and pathological conditions. Some chromatin GLCM parameters such as angular second moment, inverse difference moment and textural entropy may be useful indicators of chromatin structural alterations during the process of cellular senescence, as well as during early stages of programmed cell death. Today, various computational platforms for calculation of GLCM data exist, and this technique was shown to be sensitive, affordable and easy-to-use in various biological and medical research areas. Some authors state that in the future, GLCM computational algorithm may become a useful addition to the current diagnostic methods and practices in biochemistry, histology and pathology.
---
Dr. Mohamed A. El-Esawi
Associate Professor of Molecular Genetics
Botany Department, Faculty of Science, Tanta University, Egypt.
---
Speech Title:
Enhancement of Bacillus-Inoculated Soybean Growth and Stress Tolerance Through Modulation of the Biochemical and Molecular Mechanisms
Abstract: Plant growth-promoting rhizobacteria could induce plant growth and tolerance to harmful environmental stresses such as salinity and drought. This induction could occur due to the modulation of antioxidant systems, and physiological, biochemical and molecular responses of plants under such environmental stresses. In this work, the potential role of Bacillus species in improving the growth and stress tolerance of soybean is studied. Moreover, the significant physiological, biochemical and genetic mechanisms regulating such processes in soybean plants inoculated with Bacillus are studied and revealed. The expression levels of stress-responsive genes in soybean plants grown under such abiotic stress were also assessed. Genetic variation among control and Bacillus-inoculated soybean plants grown under normal and stress conditions were evaluated. Taken together, the results of this study provide an interesting strategy to improve soybean growth and yield via the application of plant growth-promoting rhizobacteria.
---
Dr. Andrea Trabocchi
Associate Professor of Organic Chemistry
Department of Chemistry "Ugo Schiff", University of Florence, Italy
---
Speech Title:
Diversity-Oriented Synthesis of sp3-rich molecular scaffolds as a tool for chemical genetics
Abstract: Chemical genetics is a powerful approach in early drug discovery for identifying small molecules with the ability to induce a biological phenotype or to interact with a particular gene product. Hence, efficient and versatile synthetic processes capable of generating complex and diverse molecular libraries are in demand, and Diversity-Oriented Synthesis (DOS) of small molecules is the concept of choice to give access to new chemotypes with high chemical diversity and complexity. The implementation of this technology starting from carbohydrates and amino acids is poorly investigated, and in this view we explore suitable chemistry from such natural product precursors to obtain novel heterocyclic sp3-rich molecular structures without the need of transitional protection/deprotection stages. Chemoinformatics characterization of new molecules in the context of chemical space and application in cell-based phenotypic assays are provided to select valuable candidates for subsequent medicinal chemistry follow-up and mechanistic elucidation.
---
Dr. Ashanendu Mandal
Former Chief General Manager ONGC
Researcher University of Calcutta, India
---
Speech Title:
Removal of Toxic Phenol from Wastewater using Natural Bio-adsorbent Neem Leaves
Abstract: The research aims to carry out the study of toxic phenol removal from wastewater by low-cost natural bio-adsorbent neem leaves. The neem leaves were characterized by SEM, XRD, FTIR and BET analyzers. The batch study of phenol removal was conducted with the variation of initial pH, contact time, adsorbent dose, temperature and initial phenol concentration. The column study was also performed at optimum pH with the variation of bed height, flow rate and initial phenol concentration. The kinetics, isotherms and thermodynamics were examined with the experimental results. These tests support that the adsorption mechanism involves the interactions between the cellulose, hemicelluloses and lignin materials of the adsorbent and phenol molecules through n- π, π-π and H-bonding. The tests also support for both physical and chemical adsorptions in the adsorption process. The scale-up designs were performed for both batch and fixed bed column operations. The phenol desorption from used adsorbent with ethanol solution (30% v/v) and distilled water were investigated to evaluate the regeneration efficiency. The safe disposal of used adsorbent was studied by incineration. The multiple linear regressions (MLR) and artificial neural networks (ANN) were also tested which show that the experimental results are applicable for successful predictions. These experiments were also carried out using real industrial wastewater from a coke oven plant to check its commercial applications. The research concludes that the neem leaves are effective for phenol removal and can be successfully applied to many small and medium scale industries, especially in the third world countries.
---
Dr. Ioannis V. Pavlidis
Department of Chemistry, University of Crete, Voutes University Campus, Greece
---
Speech Title:
Improving transferases for industrial applications via protein engineering
Abstract: Protein engineering has emerged as a methodology to easily evolve biocatalysts, rather than screening in nature for the perfect candidate for the desired process. While in previous times the bioprocesses were designed around the limitations of the available enzyme, nowadays we can efficiently design tailor-made biocatalysts, based on the needs of the process. The class of transferases (EC 2.x.x.x) is very interesting category of enzymes, as they can transfer variable groups in a very specific way, exploiting the enatio- and regio-selectivity expressed from the respective enzymes. This leads to less byproducts and facilitates the downstream process of isolating the final product. Herein we are going to focus on two transferase groups, as example, namely the aminotransferases and the methyltransferases. Pharmaceutical industry has a continuous interest on synthetic ways towards optically pure amines, as they are significant building blocks for the synthesis of active pharmaceutical ingredients. Typically the amine transaminases are very specific for the synthesis of optically pure primary amines, due to the geometry of the binding pocket. However, as small substituent of the substrate (a ketone) is typically recognized only a methyl group, and everything larger is not accepted from these enzymes. Specific examples of our group will be presented on rational and semi-rational design of (S)- and (R)-selective transaminases for the aceptance of bulkier, and more industrially relevant, substates. Methyltransferases on the other side, possess an immense synthetic potential by catalysing regioselective methylation of nucleophilic atoms on small molecules, that has yet to be exploited. The transfer of a methyl group has a significant impact on the biological activity of the enzymes. Herein our results will be presented on the protein engineering of specific O methyltransferases to understand the structure-function relationship and to rationalize the substrate scope and regioselectivity design. Moreover, to expand their synthetic potential, protein engineering was performed in halide methyltransferase to enable the synthesis of S adenosyl-L-methionine, the universal methyl donor, and subsequently the transfer of groups larger than methyl. The specific examples highlight the potential of protein engineering on the design of tailor-made biocatalysts and that with the current tools of bioinformatics and molecular biology we can efficiently guide the evolution of enzymes.
---
Dr. Jisha MS
Professor
School of Biosciences and Coordinator, National Institute of Plant Science and Technology, Mahatma Gandhi University, India
---
Speech Title:
Rhamnolipid Production By Autochthonous Pseudomonas aeruginosa L12 (MTCC 10462) Isolated From Detergent Contaminated Soil
Abstract: Synthetic anionic surfactants find wide application in xenobiotic degradation and environmental remediation techniques. The toxicity of xenobiotic anionic surfactants and the environmental pollution caused by it is a matter of great concern. The role of biosurfactants in removing the xenobiotic Linear alkyl benzene sulphonate (LAS), one of the most widely used synthetic anionic surfactants, is reported in this research work. LAS based rhamnolipid production by the isolates Pseudomonas aeruginosa L12 (MTCC 10462) was screened on minimal agar plates using cetyl trimethylammonium bromide-methylene blue method. The rhamnose sugar and alkyl chains of the rhamnolipid produced by Pseudomonas aeruginosa L12 were detected using Nuclear Magnetic resonance (NMR) spectroscopic analysis. The production of monorhamnolipid (C26H48O9) and dirhamnolipids (C32H58O13) were confirmed using Matrix-Assisted Laser Desorption/Ionization (MALDI) Time of Flight Mass Spectroscopy (MALDI TOF MS). The LAS degradation efficiency of a non biosurfactant producer Pseudomonas nitroreducence L4 was studied with and without rhamnolipid obtained from L12 and the results showed that rhamnolipid enhanced growth and LAS degradation rate. The biosurfactant production by the strain Pseudomonas aeruginosa L12 (MTCC 10462) can be exploited for in situ xenobiotic degradation, a green technique which will increase bioremediation and decrease surfactant pollution simultaneously.
---
Dr. Synan F. AbuQamar
Professor
Department of Biology, United Arab Emirates University, Al Ain, 15551, UAE
---
Speech Title:
Physiological and Molecular Responses of Cucumber Seedlings under Different Phosphate Regimes
Abstract: Acquisition of inorganic phosphate by plants is highly dependent on the transmembrane phosphate transporter (PT) gene family. In general, cucumber (Cucumis sativus) requires a large amount of phosphorus (P). In this study, we aimed at isolating CsPT2-1 from cucumber roots, and to determine the impact of Pi nutrition on growth and metabolism of cucumber tissues. We successfully cloned and identified the full length of CsPT2-1. In our greenhouse experiments, P-deficient seedlings were provided with low or high P concentrations and were sampled at 10 or 21 days post treatment, respectively. Application of high P strikingly reduced growth of roots, and resulted in increased total protein in leaves. In addition, acid phosphatase activity increased significantly (P<0.05) in leaves when 4 mM P or above was applied. Increasing P concentration decreased glucose concentrations in leaves of plants supplied with >0.5 mM P. In roots, glucose and starch concentrations increased with high P supply. We noticed that the transcript levels of CsPT2-1 were high roots deprived with P. On the other hand, CsPT2-1 showed reduced levels of expression when plants were provided >10 mM P. The present study shed lights on how to improve Low-P tolerance in crops including cucumber.
---
Dr. Lidia Nicola
Post-doc Researcher
Mycology, University of Pavia, Italy
---
Speech Title:
Evaluation of the potential of Trichoderma strains in the bioremediation of hydrocarbon complex mixtures
Abstract: Trichoderma is a fungal genus, belonging to Ascomycetes and it is of great biotechnological interest in many fields (agriculture, industrial production, etc). It can also biodegrade recalcitrant substrates thanks to the production of nonspecific extracellular enzymes, generally involved in the degradation of lignin, therefore it could have a potential as agent of hydrocarbons bioremediation. The aim of this work was to evaluate the ability of four strains belonging to Trichoderma asperellum and Trichoderma harzianum to exploit used engine oil as its sole carbon source. After testing their tolerance to hydrocarbon complex mixtures, the fungi were inoculated in liquid mineral cultures in direct contact with used engine oil (1% v/v). The samples were analyzed by gas chromatography/mass spectrometry (GC/MS) after 45 days of incubation. The results showed that three strains out of four (Trichoderma harzianum F12, Trichoderma harzianum F26 and Trichoderma harzianum F58) significantly changed the oil composition, decreasing the aromatic fraction in favor of the aliphatic one. T. harzianum F26, especially, showed a significant reduction of the BTEX (benzene, toluene, ethylbenzene, and the three xylene isomers) and alkylbenzenes fraction and an increase in short-chain aliphatics C1–C20. Enzymatic tests for laccase and peroxidase were also carried out, demonstrating that every strain seems to express a different mode of action.
---